On Wednesday, July 21, 2021, the University of the Ryukyus hosted a lecture by German Consul General in Osaka-Kobe Martin Eberts entitled "Germany in the Indo-Pacific Region - balancing National, European and Global issues." the University has established a satellite office in Germany and is working to promote exchange with Europe.
The lecture was held online and attended by about 70 university students, faculty members, and staff, and was moderated by Professor Till Weber, Professor of the Faculty of Global and Regional Studies and Honorary Consul of Germany in Okinawa. The University offers "EU Studies" as a common undergraduate course in the Faculty of Global and Regional Studies, and the students who attended the lecture listened intently.
In his lecture, Consul General Martin Eberts talked about Germany's policy line in the Indo-Pacific region, Germany's role in the EU, multilateralism and rules-based international order for global issues, and realpolitik and value-based policies. He emphasized that Japan and Germany share common values (peace, democracy, open society) and common challenges (climate change, low birthrate and aging population, development assistance), and the importance of continuing to address global issues as partners based on the Strategic Partnership Agreement between Japan and the EU.
Following the lecture, there was a question-and-answer session, where participants asked many questions about the impact of Brexit on Germany, the impact of China-US trade friction on Germany's foreign trade, etc. Consul General Martin Eberts explained each question in detail.
The lecture by Consul General Martin Eberts provided the participants with an opportunity to deepen their understanding of Germany's policies and role in the Indo-Pacific region, the EU, and global issues, and to rethink the significance of the Japan-Germany relationship.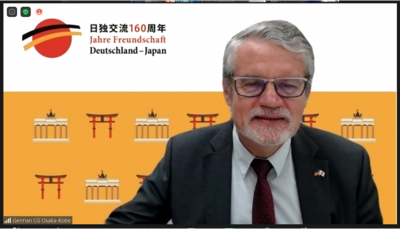 German Consul General in Osaka-Kobe Martin Eberts giving a lecture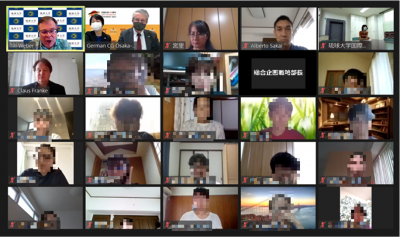 Online lecture